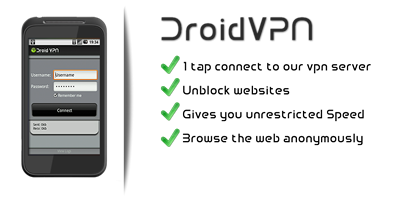 For the past few months, Ive been very busy working on the android version of PD-Proxy which will be called as DroidVPN.
I decided to rewrite the whole code of client and server. The main code is still based on PD-Proxy's code but I optimized a lot of it to make it more faster. Right now we are already beta testing the application. You can join our beta testing by signing up on the official website of DroidVPN
http://droidvpn.com/
. You can download the app from the market:
https://market.android.com/details?id=com.aed.droidvpn
After all the beta testing is done on DroidVPN I will be working on the 3.0 version of PD-Proxy. The improvements that is done on DroidVPN will be also applied to
PD-Proxy 3.0
.
If you are already using DroidVPN and wanted to request a feature for the app or just wanted to ask something just send your email to robot [at] droidvpn.com
If you are having problems using DroidVPN, All you need to do is submit your logs by pressing Menu button(Soft left button) and selecting "Send logs". It will then ask you to enter a brief description of your problem before sending your logs. We will then send you a message to your registered email account.
For more details about DroidVPN please visit our
website
or
forum
.